Rechargable handle vacuum suction blackhead remover
The product is not only remove blackhead but also can spray to keep the face skin moisture.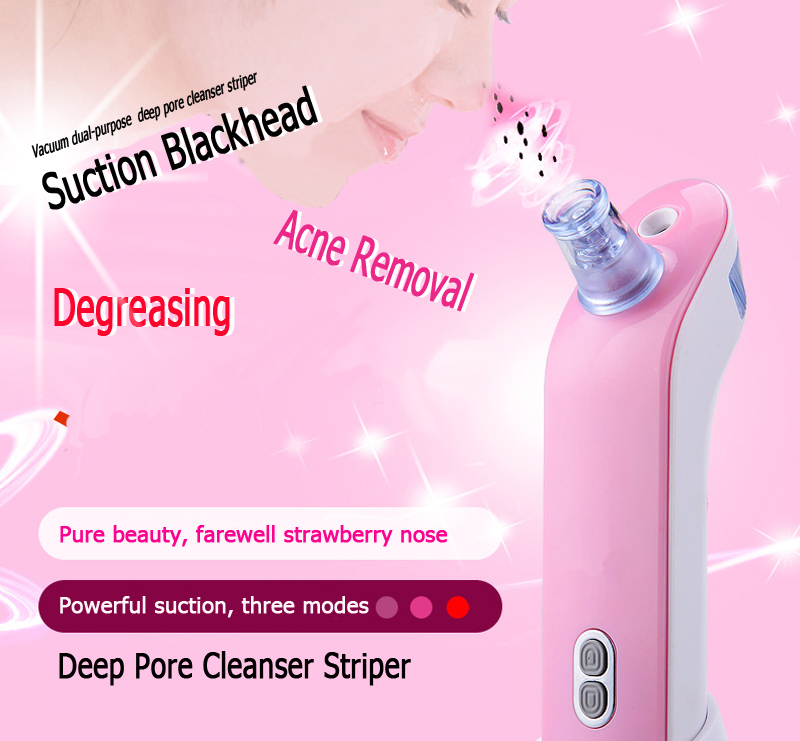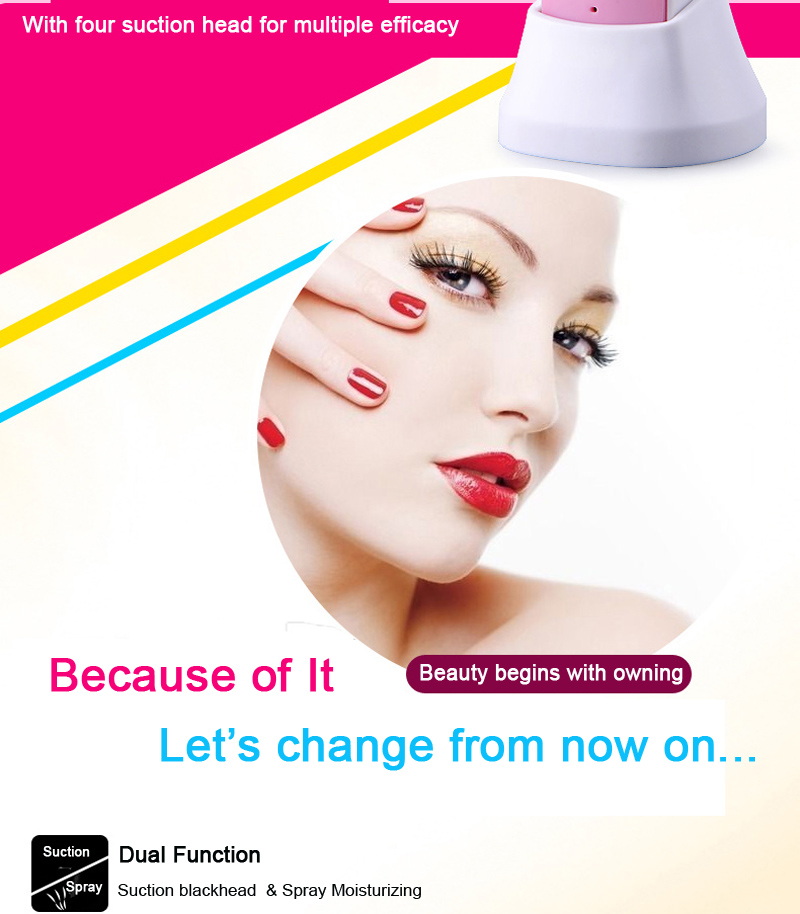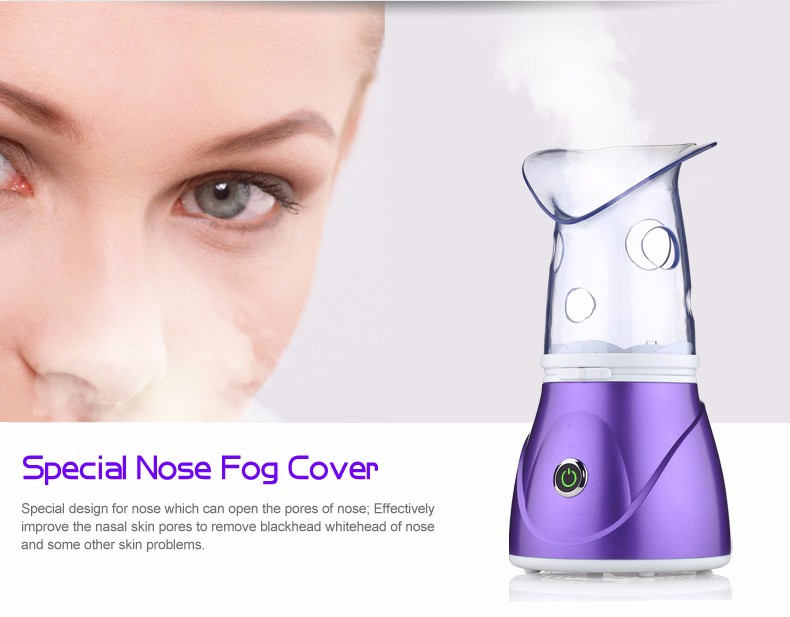 Specification:
 Features:
Dual function: suction and spray;

Compact and portable;

Three working mode to meet different skin types;

Four suction head to meet the different needs;

53KPA powerful suction;

USB charging, wireless control;
Why we need deep cleansing our face?
By hand washing– Cleaning is not thorough, which is only take away some dirt on the surface but the deep dirt is still existing.

Towel cleaning– bacteria breeding, face problems increas serious day by day.

Cleansing products—It can not deep cleaning if doesn' t match with special tools.

Skin mask—The skin can not absorb more nutrients if  pore channel blockage. 
we are meeting the skin problems everyday: blackhead,  coarse pores, oil face, acne,etc.
The Vaccum Suction blackhead Remover can help solve the problems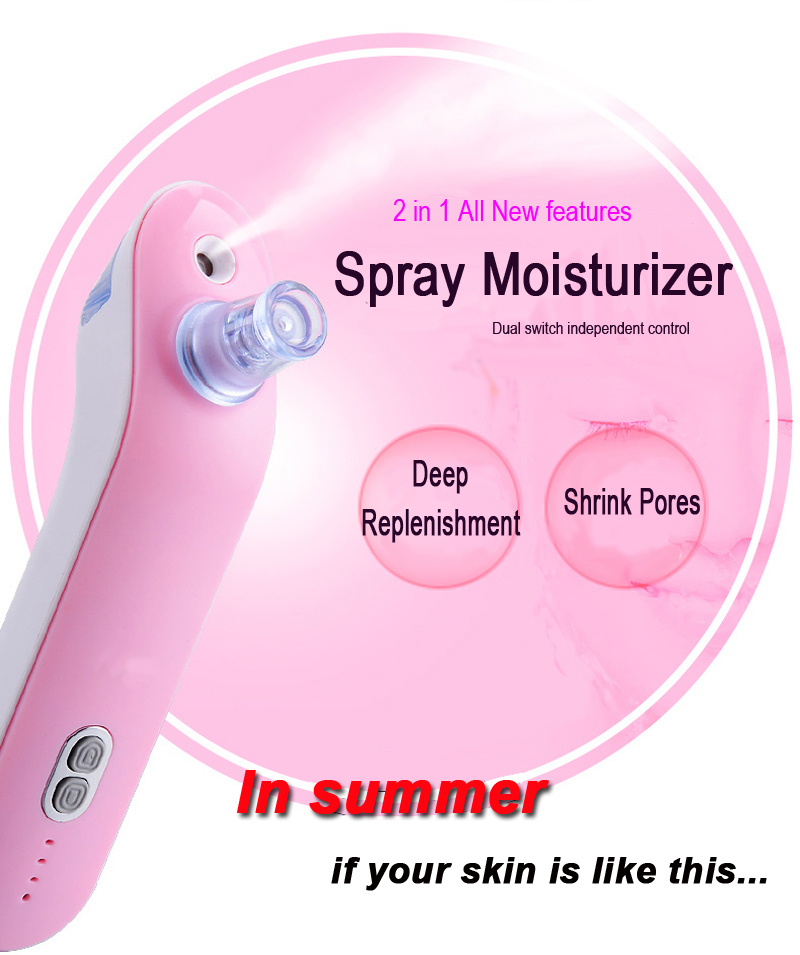 Product Construction
4 Types of suction head for multiple function
Fine ceramics head exfoliating cutin
            Imitation of the beauty salon microcrystalline grinding technology, more gentle not to hurt the skin, effectively remove the skin aging cutin, bright color, tender skin
Large suction head, easy to remove blackhead
             Powerful Suction– to suck out the blackhead acne in facial T area and  body . Please move slowly on the skin when suction. Please do not keep suction at the same position, or else it will produce skin red, purple.
small suction head keep cleaner and refine
          Assist the large suction head, remove the blackhead at the corner of nose .It is the perfect partner for Large round hole suction head.
The oval suction head, pulling compact and remove wrinkle
        The elliptical shape head which likes iron repeatedly sucked off gently and short. It can gently pulling compact skin, enhance the vitality, increase elasticity, wrinkles, make the skin tight young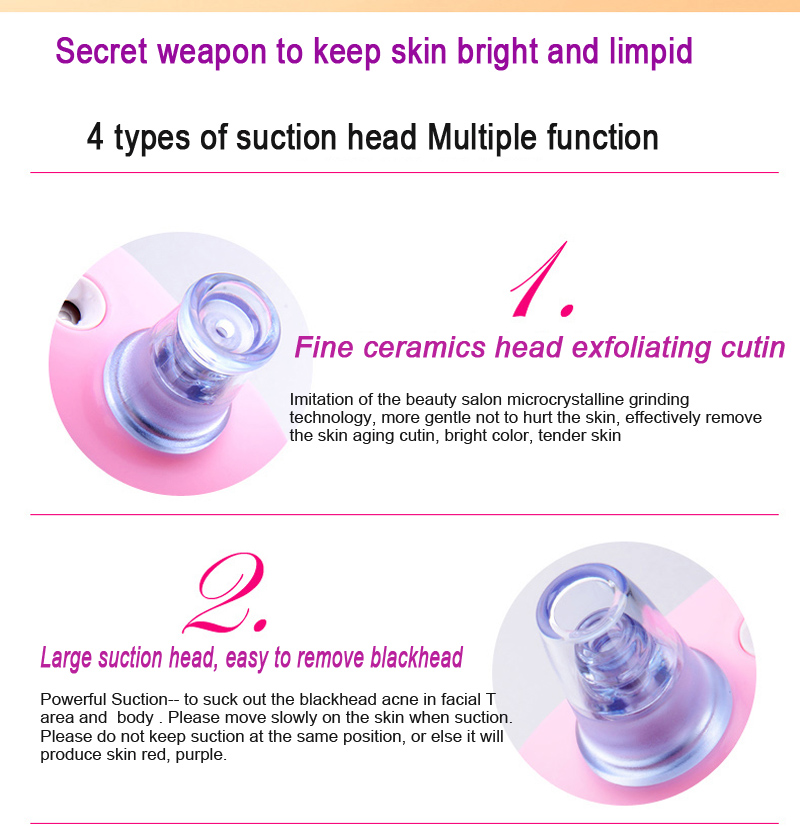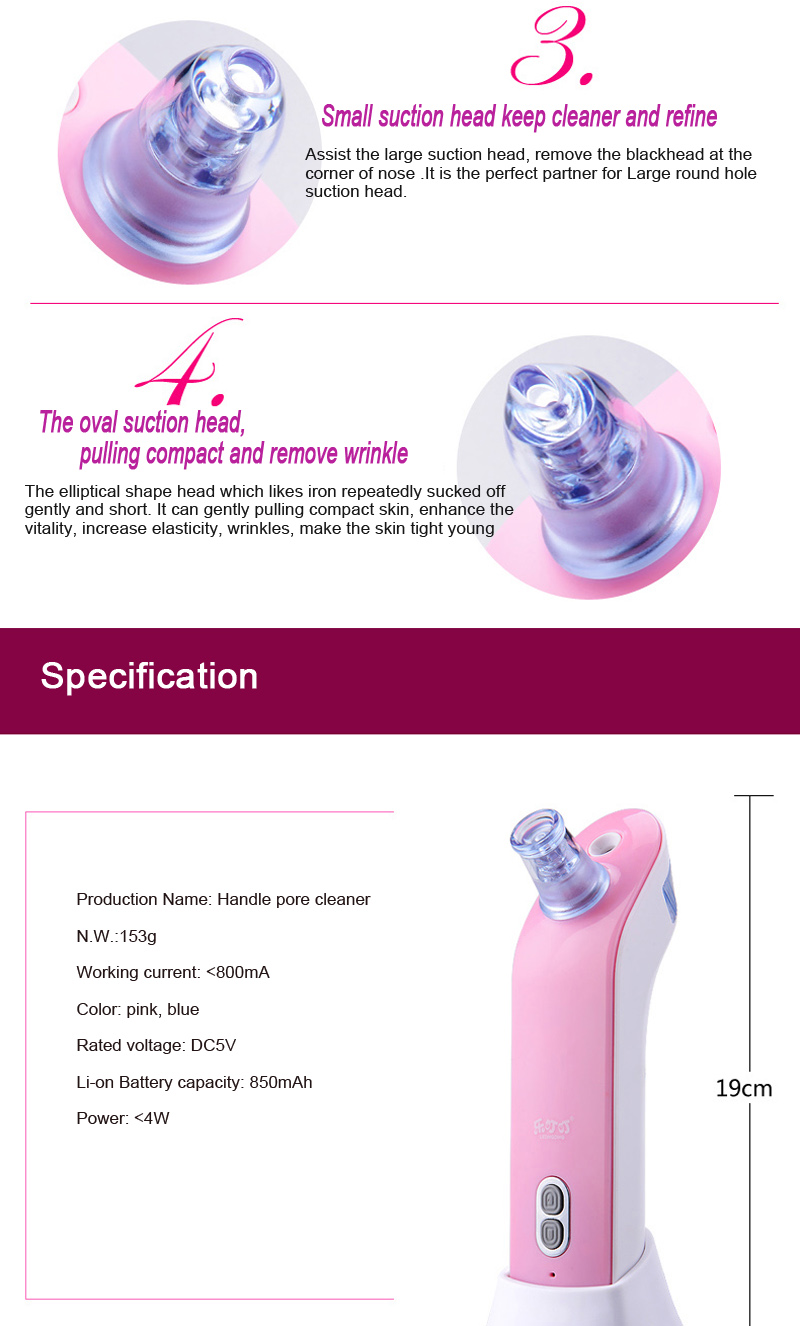 Package information:
Product Name:   vacuum suction cleaner
Product Size:170*45.2*85mm
color box:145*205*55mm
Carton: 58*43*16.5cm
QTY: 20pcs/carton
  Our factory was Innitial found in Ningbo, Zhejiang in 2004. The main business is keen on mini rice cooker, egg cooker for gifts market.
     In 2010, the business was grwoing up rapidly. Guangdong manufacrure was developped. And we keen on noodle machine, oil press machine, bean sprout machine for home using!
      In 2014, to enlarge the business, we develop the oversea business. The product passed CE, Rohs.
      We keen on developping creative, special product all the time
       Good product, good quality and good service is our main target.
Company: Shanghai K.M. Eelctronic Co., Ltd 
Contact person: Susie.chou
Cell: +86-13671982640
:008613671982640
skype: susie.chou1
Add: Room 802, 15#, Lane 65, Shanhua Road, Minhang Disctrict, Shanghai, China
…