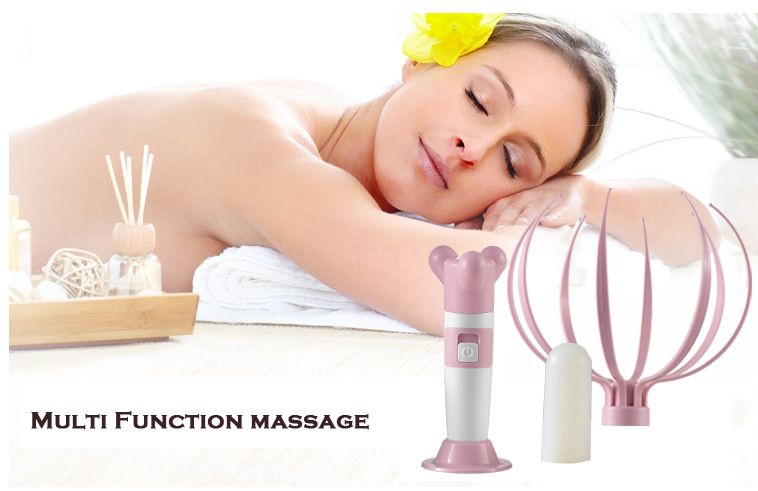 Specification:
Product Name:  ionising hair brush
Material: ABS;
Voltage: 3.7V
Size:  150*70*45mm
Power supplier: Li-on battery
Details :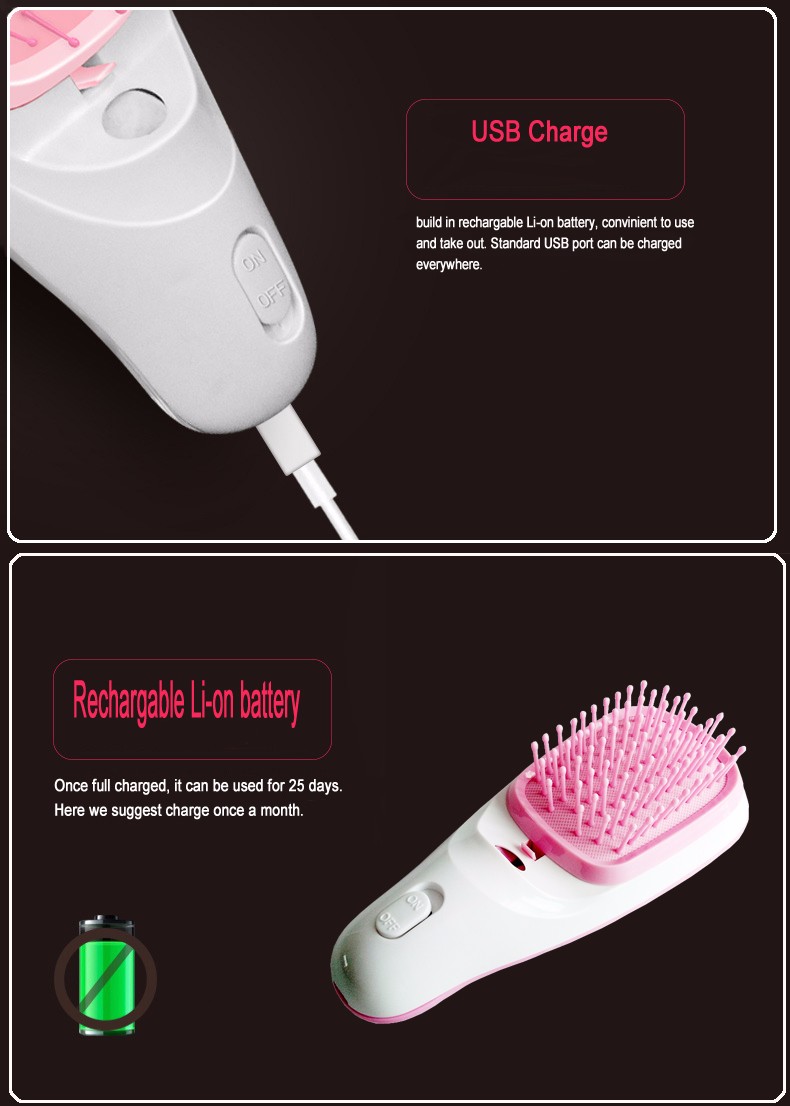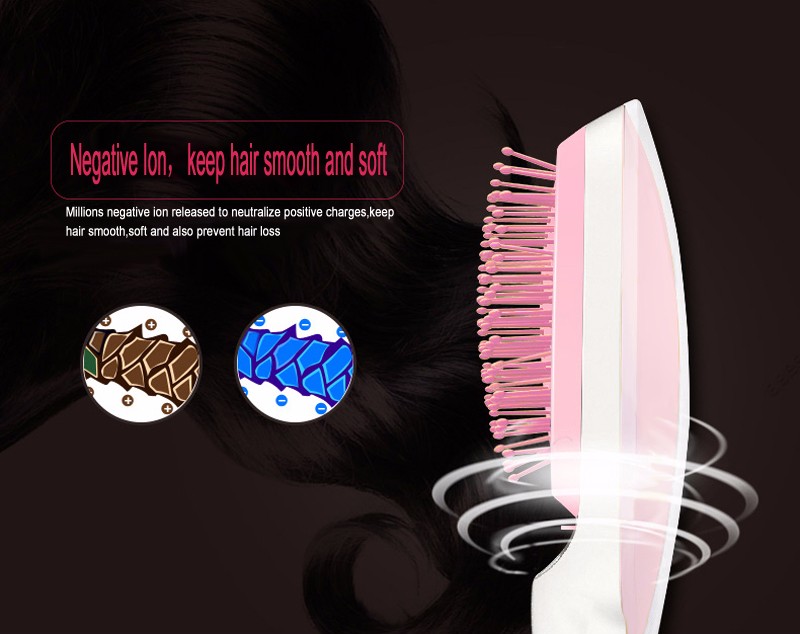 Trouble of Hair :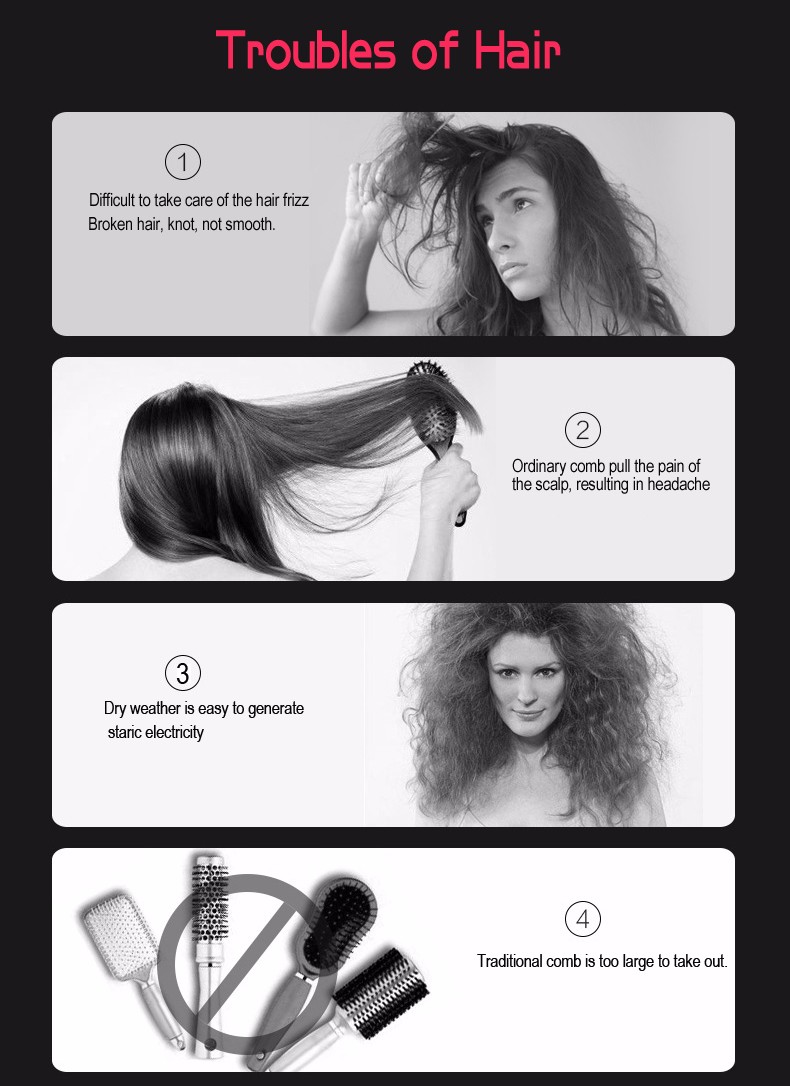 Ionic for Hair:
Nourish hair through the ionization process. Get more coverage in less time with no damage;
Fortifies and beautifies the hair from the inside to out;
Healthy, shiny, and more manageable hair
Change Ions delivered with warm air, break down water molecules, which are then easily absorbed by hair
ons delivered with warm air, break down water molecules, which are then easily absorbed by your hair.

Manual Instruction:
1  It can open the hair knot both for dry and wet hair.
2  It can be suitable for skin sensitive people
3  It can evenly coated hair conditioner by combing 
4  It can be used to do short-term shaping.  the plastic products spray on my hair after using negative ion electrostatic massage comb
5 wig can also be used to prevent electrostatic massage comb easy to clear.
Hair care method:
Shampoo curing:
The right shampoo method is: First massage the hair, combing hair smooth to prevent with disposable alopecia before shampooing. The water temperature should be 30-38 degrees Celsius. Wet hair and a small amount of shampoo evenly coated on the hair. Using your fingertips gently rub hair, grasping uniform scratching with fingernails, then finger comb hair, let dirt overflow. Rinse with clear water, dry towel to wipe the water and dry naturally. After washing, rub some protective hair cream or moisturizing hair oil.
Massage combing curing:
Scalp blood circulation can keep a beautiful hair. Massage the head can regulate the secretion of sebaceous glands, promote hair blood circulation, metabolism, so that the hair moisturizing. Comb hair has the effect of massage. Comb cannot be forced too much. Fingers can also be used as comb.
Diet  curing:
Hair growth requires nutrients, such as protein, fat, amino acids and trace elements of zinc, iron, calcium, etc.. Fish, eggs, milk and other rich in iodine; animal liver, oysters, beef, peanut, potato, radish, coarse flour rich in iron, dairy, fish and shrimp are rich in calcium. Eat these foods can make the hair soft and shiny and elastic.
Friendly Tips:
1 When the comb starts work, it is a normal phenomenon of negative ion. Don't worry about;
2 Please first massage scalp for 10-30 seconds by anion comb before comb your hair. And comb the hair from the top to down gently which helps to reduce the occurrence of dandruff,enhance scalp health;
3 The product is not completely waterproof design. Please do not use the negative ion comb in the water to [prevent damage.
4 please clean the comb pad regularly. Please do not wash the product by water. 
5 please keep it in a cool and dry place. And keep it out touch of children.
Size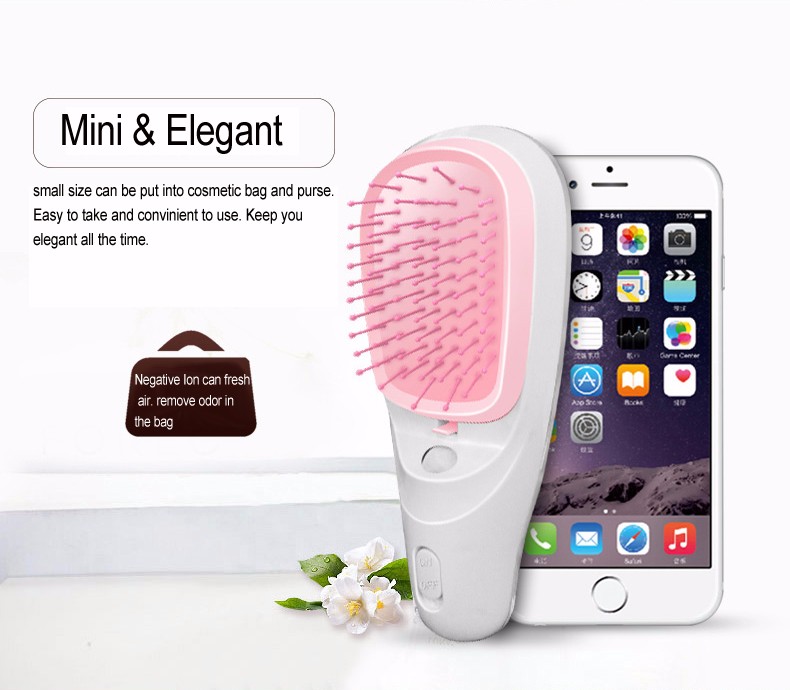 Contact US:
Company: Shanghai K.M. Eelctronic Co., Ltd 
Contact person: Susie.chou
Cell: +86-13671982640
: 008613671982640
Skype: susie.chou1
Add: Room 802, 15#, Lane 65, Shanhua Road, Minhang Disctrict, Shanghai, China